New feature: Timeline color customization
Last week we added an exciting new beta feature for our Pro plan subscribers: the ability to change the colors of your embedded timelines.
This is a feature that a lot of you have been asking about since we launched our new timeline design. Now you'll be able to change the look of your timeline to fit seamlessly into wherever you will be embedding it.
Embed color customization works for both the default horizontal view, as well as the recently launched list view embeds.
We think this new feature adds a lot of value, so we wanted to give you access to a beta version as soon as possible. We will further refine it over the course of the next couple of months. As always, we would be interested to hear all of your comments and suggestions so we can take them into account during future iterations.
To get started, just follow the regular timeline embed process. You will see the color scheme appear within the pop-out embed code customizer.
Just click or tap the color scheme to start editing it. During the edit process, you will see a handy mini-preview of what your color scheme will look like.
Here's an example of what the beta version of our new color customizer interface looks like: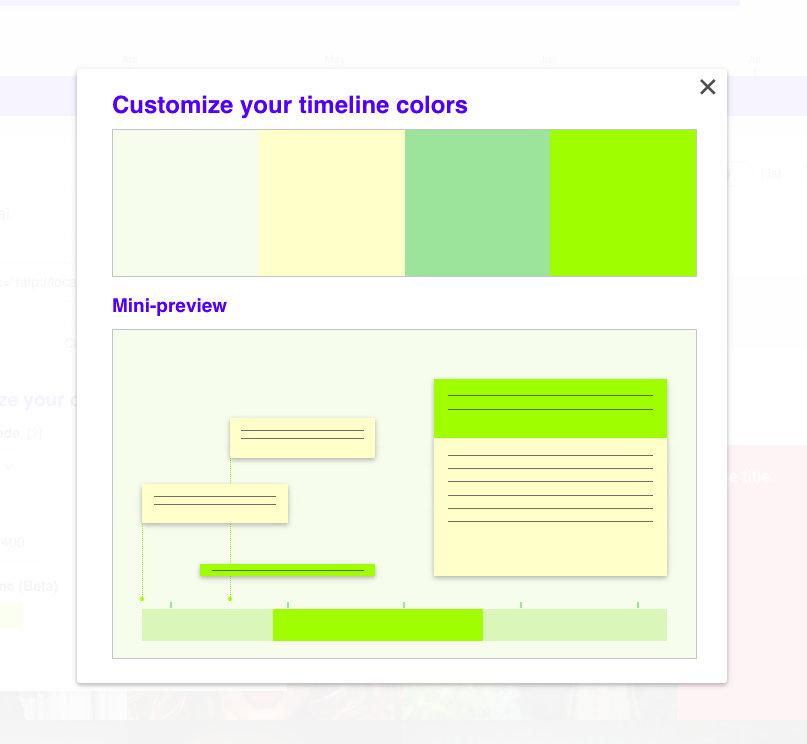 This great new addition has been a highly desired item for some time. I'm glad it's here and ready for you to try out!